OFFLINE version (With paper and pencil)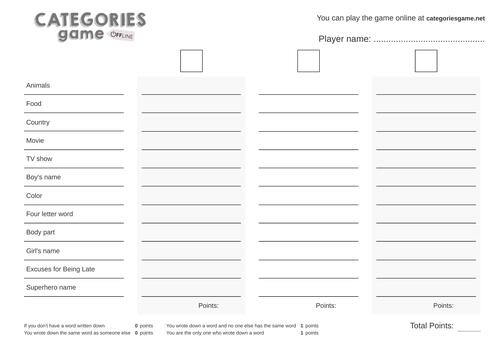 The PDF document contains a game sheet with 5-32 categories. Each game sheet has an alphabet that you can cross out during the game. The game is designed for two or more players. The black-and-white design of the game spares the colored toner on your home printer, so you can print the game sheet over and over again.
Aim of the game
The goal of the game is to find and write down words for selected game categories. The game is played in multiple rounds. In each round, words starting with a randomly selected letter from the alphabet are searched for. The words entered by the players are evaluated according to the points. The player who gets the most points wins.
Rules of the game
Each player receives a game sheet and places it in front of them along with a pencil.
The game has several rounds. For each round of the game, you must specify a letter that each word will begin with.
One of the players say the alphabet in their head. Another player stops them at any time with the word STOP.
The round begins when the player says the letter where he was stopped out loud.
Players must fill in the words for each category in one row of the table as quickly as possible. The words must begin with the selected letter.
The first player to fill in all the categories shouts the word STOP and everyone else has to put down their pencil. The players can also agree to end the round at any time.
At the end of each round, points are awarded for the words according to the rules on the game card.
The game ends after the agreed number of rounds. The player with the most points wins.
TIP: If one of the players writes more slowly, change point 6 and end the round after the time limit, for example 2 minutes.
Scoring
If you don't have a word written down = 0 points.
You wrote down the same word as someone else = 0 points.
You wrote down a word and no one else has the same word = 1 point.
You are the only one who wrote down a word = 1 point.
When the PDF sheet contains a problematic category
The translation is wrong
ONLINE version
(Web application)
Online version of the Categories game. The game variants are also known as Guggenheim or Scattergories. Play with friends and improve your vocabulary in any of the 40 supported languages.